Laurie Steele & the Homegrown Show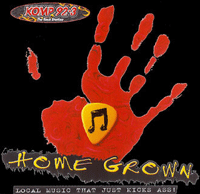 Saturdays 3p-7p & Sundays 5p-12a
About Laurie: 
Laurie began her broadcasting career in Southern California in 1993. Relocating to Las Vegas in October 1996, she did a brief stint at another station before jumping to 92.3 KOMP in January 1998, where she's been ever since.
The host and creative force behind the award winning Homegrown Show, which features local and unsigned bands, Laurie has been recognized by Governor Sandoval, Senators Reid and Heller, Congresswoman Titus, and Mayors Goodman, Hafen and Wood for her work bringing attention to Nevada. An army brat who is married to a combat veteran, she is a supporter of our armed forces, and donates her time and energy to helping service members through various volunteer projects.
About the Show: 
Join Laurie Steele every Sunday evening from 10:00pm to Midnight, as she showcases the best local and unsigned bands in Las Vegas.
I've been getting a lot of emails from bands wondering how they can submit music to my show, and an equal number of requests to listen to music on their myspace pages, so I thought I'd post this to answer your questions.
First of all, I have a policy of not listening to music online. If I can't put it into my CD player at the station, then I can't use it. I get way too many CD submissions to even THINK about listening to music online. If you haven't already submitted a CD to the station, that's what you need to do. Submit your CD with contact info and track listing to:
Laurie Steele
c/o KOMP
8755 W. Flamingo Rd.
Las Vegas NV 89147
You can either mail in your submission, or if you are in the Las Vegas area, you can drop it off with the receptionist during business hours (M-F 8a-5p except Thurs open till 6:30p). Make sure you put the package to my attention. You can also email me an AIR QUALITY version of your song via email at homegrown at komp dot com.
No guarantees of airplay until I review it, and if it has any profanity, you must edit it for radio prior to submission. Also, I do not know if the style of music you are doing will fit my show, but the only way to know for sure is to submit it.
Once you submit your CD, please be patient! I get a lot of submissions from all over the world and it takes time to go through them all. I also have other obligations on my time. Also, all submissions become property of the show and cannot be returned (meaning if I decide not to use it, I'm not sending it back).
If for any reason I decide not to use your music, it doesn't mean I won't consider future submissions from you.
Several bands have had to submit more than one CD before I aired them.
No band thinks their music sucks, and every musician feels his/her music is good enough to be on the radio. Sadly, this is not the case. If I decide not to add your music to my show, being a dick about it won't make me change my mind. Suck it up and move on. There's an audience for everything somewhere. That being said, I try to be fair, so if your stuff is well-produced and accessible to my audience, chances are I'll give it a shot. I do try to give precedence to Las Vegas bands that are gigging, but after that, it's fair game.
Hopefully this answers any questions you have about my submission policy. If not, feel free to email me.
As always, thanks for listening.
Laurie
Message from server: Not Found. Check in YouTube if the id
UCs8LSNjY5e3ljZP2Aw2sVfg
belongs to a user. To locate the id of your user check the
FAQ
of the plugin.