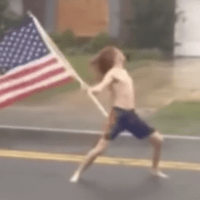 Like he has done so many times, Lane Pittman, better known as "Florida Man" or "that guy who headbangs to Slayer during hurricanes", has once again defended the East Coast from a blistering hurricane.
Hurricane Dorian angrily approached Myrtle Beach as Pittman stood his ground against the fierce wind and rain, American flag proudly whipping around him as the hurricane howled. Florida Man would not be moved though.
We can never repay his sacrifice or put into sufficient words his bravery. But from everyone here at KOMP 92.3FM, Las Vegas, and the entire West Coast who never has to deal with that sh*t (and most of us only believe Florida itself to be a myth), thank you!
Been under a rock for the last few years? You don't know who Florida Man is or what his legend is all about? Check this out:
~Jeremy Long / KOMP 92.3FM