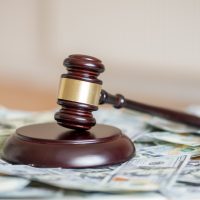 A Colorado-based brewery is being welcomed to the jungle by a nice fat lawsuit, courtesy of legendary rock band Guns N' Roses.
Oskar Blues Brewery, which has brewhouses and taprooms in multiple states, is under fire from the band for naming and selling one of their beers and merchandise under the name "Guns N' Rosé" which the band says helps the brewery profit off of their fame.
The band wants any remaining product destroyed plus all profits from those sales and damages.
More from HuffPost:
The complaint says Oskar Blues applied to trademark Guns 'N' Rosé last year and abandoned the effort after the band objected.
The lawsuit says the brewery is still selling the beer and the merchandise.

The band wants a court order blocking the brewery from misappropriating its name, destroying the products and turning over profits from Guns 'N' Rosé and other monetary awards.
Oskar Blues marketing director Kyle Ingram did not immediately return a telephone message seeking comment.
The brewery has seemingly removed any and all mentions of the "Guns N' Rosé" beer and any associated merchandise from their website. It's too soon to know if that'll be enough to appease the band, but I seriously doubt it.
~Jeremy Long / KOMP 92.3FM