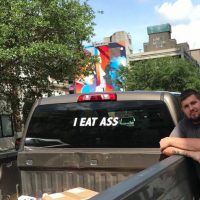 A Florida man was stopped and arrested for refusing to heed a police officers request that he remove an offensive sticker from his truck. The good news is that he won't be prosecuted and all charges against him have been dropped.
The bad news for the sheriff's department is that he's now considering a lawsuit against them.
Dillon Shane Webb, 23, was stopped Sunday in Lake City, west of Jacksonville, by a Columbia County sheriff's deputy who saw the sticker on Webb's truck loudly proclaiming that Webb does indeed eat ass.
Now, while this may be offensive to some, it doesn't technically break any laws, including that pesky "free speech" amendment that people love to quote.
More from this wonderful Buzz Feed article:
Dashcam footage shows the deputy telling Webb that the reason he was pulled over was "the derogatory sticker" on the back of his truck.

"How is that derogatory?" Webb asks.

"How is it not derogatory?" the deputy responds. "Some 10-year-old little kid sitting in the passenger seat of his momma's vehicle looks over and sees 'I EAT ASS' and asks his mom what it means; how is she going to explain that?"

"That's the parent's job, not my job," Webb responded.
Webb was issued a summons for what the sheriff's deputy said was a misdemeanor violation of Florida's obscene-materials law.

Dashcam footage shows the deputy telling Webb that if one of his four children asked him about the sticker, he "would be furious."

When the deputy told Webb to remove one of the letters from the words "ASS" to read "AS," Webb refused, citing his constitutional right to free speech.

The deputy subsequently arrested Webb and charged him with the additional offense of resisting an officer without violence.
As if the first charge wasn't enough, the additional offense of resisting an officer was just plain petty.
Maybe the arresting deputy was upset because no one's eaten his ass in a while? I mean, Mr. Webb is a guy who partakes, so maybe he could have just asked?
Regardless, Webb is considering his legal options (::cough cough:: settlement time!) and the world keeps on spinning. But maybe this deputy will think twice before arresting someone for their dining preferences.
The next thing you know, you could be popped for eating at McDonald's.
If you think about it… it's pretty much the same thing as eating ass.
~Jeremy Long / KOMP 92.3FM