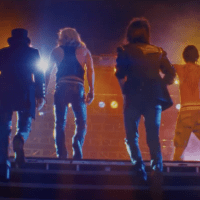 "The fans… they're dying for anarchy. So let's give it to 'em." 
Insert fireworks, the famous guitar riffs you know and love, and the tight pants and hair that had Aerosmith thinking 'dude looks like a lady'… "The Dirt", the ambitious new movie about the rise of Mötley Crüe, looks to capitalize on the wave of feel-good nostalgia ushered in by the extremely well received "Bohemian Rhapsody" movie that shook up 2018.
This film looks like it will take a deeper dive into the lives of the rockers, with looks at the sex, drugs and in-fighting that "Rhapsody" seemingly glossed over.
In all seriousness, how could you ever dream of creating a movie about one of the most infamous bands in history and leave all headline grabbing issues out? You couldn't.
The trailer looks like a damn good time.
"The Dirt" will be available on Netflix on March 22.
~Jeremy Long / KOMP 92.3FM