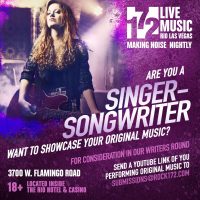 Are you a singer-songwriter that's looking to showcase your original music?
The folks at 172 at Rio Las Vegas (3700 West Flamingo Road) want you to "make noise nightly" with them!
To be considered for their writers round, send a YouTube link of you performing original music to submissions@rock172.com
Rock You from 172 at Rio Las Vegas and KOMP 92.3FM The PLANET'S Rock Station!