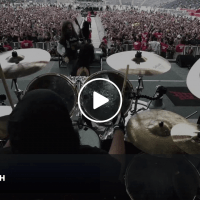 If you have a few minutes you owe it to yourself to check out some of the trending videos out right now on the interwebz.
---
1.) Check out Muse perform 'Psycho' … and turn the volume WAY up. The band will screen their Drones World Tour film this week, for one night only. [via RollingStone]
2.) At least four of a group of boys trapped inside a cave in northern Thailand for two weeks have been been brought out, say the Thai Navy Seals. Incredible story unfolding in Thailand.
3.) A powerful video from BuzzFeed: 'I asked my mom 11 intimate questions before it's too late' … and I'm not crying, you're crying.
4.) Grandpa rocks out to AC/DC's Hell's Bells at a stoplight… we've all been there.
5.) HellYeah has posted a new tribute video to late drummer Vinnie Paul on their Facebook page.
Thank You!

Posted by HELLYEAH on Friday, July 6, 2018