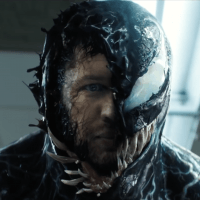 The latest full trailer for the upcoming anti-hero movie 'Venom' dropped this morning for your eyeballs.
The newest studio tagline is one we can all relate to: "The world has enough superheroes." It's a playful jab at the last 10 years of Marvel's all-consuming universe on the big screen, and one that fits well with Venom.
Check it out below!
One of Marvel's most enigmatic, complex and badass characters comes to the big screen, starring Academy Award® nominated actor Tom Hardy as the lethal protector Venom.