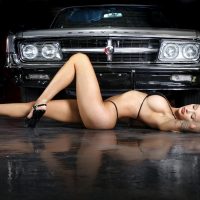 Our KOMP Girl of the month for July 2018 is Mercy Collins.
---
Mercy Collins was born and raised in Los Angeles,  California. Mercy started modeling while in CA at the age of 15 and has since been featured in numerous magazine publications. She relocated to Miami , FL at the age of 18 and began working as the brand spokes model for skate and board shop. Mercy has many passions including jewelry design, which she attended FIDM for, and animal rescue. Having volunteered at various animal shelters from a young age, Mercy is a crazy cat lady in training and now resides in Vegas with 5 cats of her own. Having moved to Las Vegas in 2016 she spends most of her time exploring all the wonderful places and activities Vegas has to offer. She enjoys going boating at the lake, motorcycle rides, and attending car shows and concerts. She is currently the spokesmodel for Whiskeys Auto Distillery brand Whiskey and Moonshine
Whiskeys Auto Distillery is your premier destination for full restorations, engine swaps, custom fabrication, and much more. We specialize in servicing Hotrods, Muscle Cars, Trucks, Boats and Harleys.
---