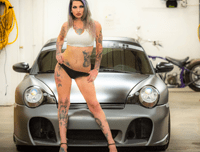 Our KOMP Girl of the month for June 2018 is Candy Stone.
---
Candy Stone was born in Whittier and raised in a small town called Paradise, in California.
After relocating to Bullhead City, Arizona around age 17, Candy began a tattoo apprenticeship and began modeling for Suicide Girls under the name "Azure."
In 2014, Candy relocated again, this time to Las Vegas, Nevada.
Candy has worked in many well known tattoo shops since her career as an artist began, including Vegas Ink located on the Las Vegas Strip. She has also appeared in many magazines, such as Savage Magazine, Tabu Taboo and German magazine; Tattoo Inferno, as well as making internet, radio and TV show appearances.
Although Candy will always consider herself an artist, she is taking a break and pursuing a career bartending in Night Clubs.
---
Follow Candy Stone online:
Instagram: @Rosemary.1030
Facebook: https://www.facebook.com/candy.stone.779
---