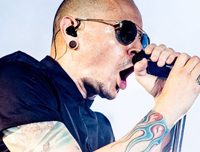 The newest trend in music is to have late artists and musicians appear with former bandmates and talents to give "one last" performance.
Tupac, Frank Zappa, Ronnie James Dio and others have all "graced" the stage in holographic glory. Or is it infamy?
In a recent Instagram Live session, Shinoda talked about the bands One More Light Live album and took questions from fans where the subject of a hologram Bennington popped up.
Shinoda, understandably, had reservations.
More from Loudwire.com:
…Shinoda has affirmed this will not be the case with Linkin Park's late singer. "Can we not do a holographic Chester? I can't even wrap my head around the idea of a holographic Chester. I've actually heard other people outside the band suggest that, and there's absolutely no way. I cannot fuck with that," he stated (via Alternative Nation).

Shinoda remained unwavering in his stance as he continued, "I can't do a hologram Chester you guys, that would be the worst. For any of you guys who have lost a loved one, best friend, family member, can you imagine having a hologram of them? Awful. I can't do it."

The future of the band remains uncertain. Prior to canceling their tour of Japan, Linkin Park stated they had contemplated moving forward with the tour, indicating that they have not made the decision to end the band. "I don't know what we're going to do, but we'll figure it out eventually," added Shinoda in the Instagram live chat.
*******
Image: Rex