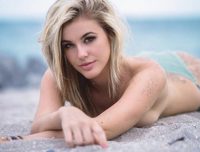 Our KOMP Girl of the Month for August 2017 is model Shelby Vert.
Shelby is a Las Vegas based promotional, trade show and print model. She has appeared at over 40 trade shows in the past 3 years along with 8 magazine publications. Shelby is also a nursing student with a passion for helping others.
Her favorite quote to pass on to others is, "Two things define every person; our strength when we have nothing, and our attitude when we have everything."
Give Shelby a follow online:
SNAPCHAT: @shelbyvert
---
Send in your nominations for the September KOMP Girl of the Month by emailing us here.
---