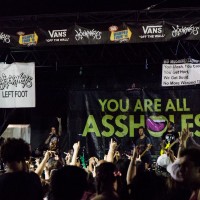 It's gone, but not forgotten.  Warped Tour: a magical place where young and old gather to hear their favorite bands play live.  Setting up shop at the Hard Rock Hotel and Casino here in Las Vegas, this went down as one of the weirdest stops ever.  Warped Tour goers swarmed the casino floor trekking between The Joint, Vinyl, the Nirvana Pool (yes, there was water moshing), and the backlot.  We sent Chris and Ash over to check it out.
Bands featured below include We The Kings, Yellowcard, Tonight Alive, Set It Off, Four Year Strong, Less Than Jake, Sleeping With Sirens, From Ashes to New, Whitechapel, and Falling in Reverse.
Photographs by Ashes Photography and Chris Moral
Besides the bands, we also caught up with a few cool people: To Write Love on Her Arms, Can You Hear Me, and Skully Serves.  All of them are non-profit organizations that reach out to teens for multiple issues.  For more information, check them out at www.twloha.com, www.cyhm.org, www.SkullyServes.com.
If you like what you see and want to be part of it, get involved in your local music scene.  If you're a band looking to get out there, we dedicate 2 hours to local and unsinged rock.  You can find more information at https://www.komp.com/laurie-steele-the-homegrown-show-2/
Thanks for another awesome summer!