Three Days Grace with special guests Pop Evil & Brave Black Sea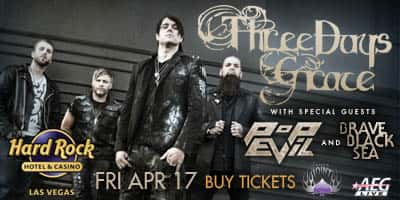 When it came time to choose an album title for the follow-up to Three Days Graces 2006s platinum-certified One-X, the four band members thought the phrase life starts now summed things up pretty well. The new album is basically a commentary on the last couple years of our lives, says drummer Neil Sanderson. Things have been fairly traumatic for more than one of us. We've all had to confront death on a few different levels, and we've had family go through some health-related things, so, for us, Life Starts Now reflects that feeling of redefining what life is and what it means to be alive after you hit rock bottom.
The events of the past few years have made us more aware of what life really can be, says lead vocalist/guitarist Adam Gontier. So the album is about taking the situation that youre in, no matter how bad it feels, and making the best of it. Lyrically, most of the songs are based around that idea.
Several tracks address powerful feelings of loss whether through betrayal, on Bitter Taste and Last To Know, or death, on World So Cold and Without You songs that bassist Brad Walst says really hit close to home. Bully tackles the impact of bullying, something Sanderson describes as a massive problem that can actually change someones life and affect who they are as a person. The band switches things up on the more upbeat The Good Life, which asks: If you were to live a different life, what would you want to get out of it? Gontier explains. Then theres the fiery first single Break, which Gontier says explores not being controlled by your surroundings or environment. Its about breaking away from being told what to do and living the life that you want to live.