Fremont Street Experience: Collective Soul
Event Navigation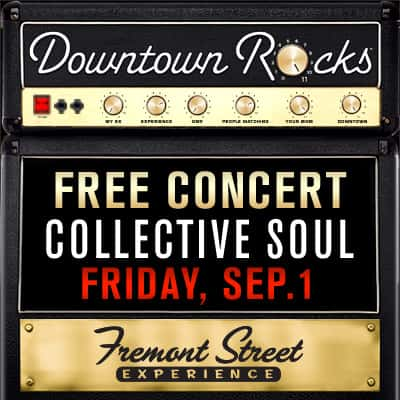 We're thrilled to announce Downtown Rocks, a series of free summer concerts in the heart of downtown Las Vegas at Fremont Street Experience.
The Downtown Rocks summer concert series will feature ticket-free shows by acclaimed artists set against a backdrop of the world's largest video screen, the world's largest slot machine (the SlotZilla zipline) and a colorful collection of iconic Las Vegas casinos.
For starters, Theory of a Dead Man performs May 26, 2017. On June 10, it's the Rock'n Road Trip tour. Artists include Fuel, Tonic, Marcy Playground and Dishwalla, all on the same bill.
Downtown Rock's summer-long party continues with performances by Ann Wilson of Heart (7/3), Good Charlotte (7/22) Rick Springfield (8/12), Seether (8/26), Collective Soul (9/1) and Chevelle (9/30).