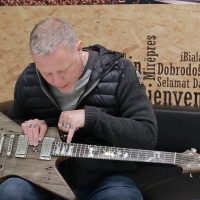 MEET 
JAMES HETFIELD'S 
GUITAR "CARL," MADE OF WOOD FROM METALLICA'S GARAGE.
In an interview with Revolver Magazine, James Hetfield explains all the symbolism in his guitar he calls "Carl". 
Don't forget, this Friday, April 13th, Metallica will release a remastered reissue of The $5.98 E.P.: Garage Days Re-Revisited, their hard-to-find 1987 rarity featuring covers of the Misfits, Diamond Head, Killing Joke and more.
Sources below:
CLICK HERE FOR FULL REVOLVER INTERVIEW
CLICK HERE Metallica News