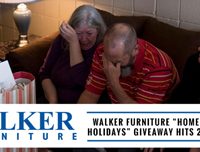 By: Marcus Lavergne
---
While most recipients of Walker Furniture's philanthropic-donation event have fallen on hard times, some have even had to escape violent relationships or suffer the pain of losing loved ones to acts of violence. Building a cozy home can feel more like a pipe dream than the "American Dream" when a person is struggling with kids, sick loved ones or just the weight of their own stresses.
When a person hears the stories and sees the tears shed by beneficiaries of the home-goods mogul, it's hard not to be shaken up by a wave of emotions. Families that once struggled to make a bare apartment or house their sanctuaries step a bit farther toward their goal.
Larry Alterwitz, owner and CEO of Walker Furniture strived to make building a happy home a reality for people down on their luck, and in 1994, "Home for the Holidays" became Walker Furniture's gift to the Las Vegas valley.
During the company's Delivery Kick-Off Luncheon Wednesday afternoon, the names of 35 families were announced out of a list with more than 2000 nominees. An additional five families will have their homes transformed thanks to Las Vegas Metro Police Department's magnanimity.
"To be able to give back to the community is always special to Walker Furniture," Alterwitz said.
"We want to keep doing this year after year and keep helping people as long as they need it."
Jovial, holiday classics and other songs performed by the Faith Lutheran High School Women's Ensemble, the Opportunity Village Choir, "The Village Blend," and BAZ cast members adorned the auditorium at The Joint in the Hard Rock Hotel and Casino.
The celebration was coupled by shout-outs to community members who've helped bring Alterwitz's dream to fruition; a number of media organizations and charitable groups including Helping Hands of Vegas Valley and Las Vegas Rescue Mission were highlighted.
Brenda Jepsen coordinates volunteers for HHVV. She says the process isn't easy, but those who do give their time end up taking something very valuable with them.
"It's very emotionally charged," Jepsen said. "They come back and tell just how horrible the situations are or how deserving these families are. It's truly life changing. [Las Vegas] really is tight knit and when we come together we truly can change the lives of people. That's what [volunteers] feel."
Walker Furniture has deliveries planned all-weekend long. The families nominated will have their homes furnished with couches, beds, dining tables and other new pieces that make home feel, well — like home.