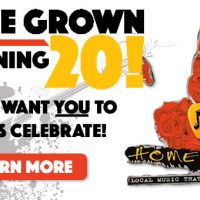 Home Grown is turning 20! 
We'd like to hear what Home Grown has meant to you, whether you are in a band, know a band or just love to listen!
What are your favorite Home Grown memories? What bands were you turned on to through the show? Do you have any pictures with Laurie or from showcases? Email your stories and pictures (300 dpi, please!) to us and they may make it into the collection we are compiling!