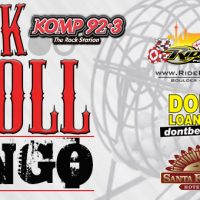 KOMP 92.3's World Famous
Rock n Roll Bingo

is back
Saturday March 25th at Santa Fa Hotel & Casino
Inside the BRAND NEW BINGO ROOM
Your only chance to play is to win your
KOMP Bingo Passes..
You can score your KOMP Bingo Passes by:
1.
Listening

on air to KOMP 92.3
2. Various KOMP

remote locations

(keep listening for those locations)
Supported by BUD LIGHT and Green Valley Grocery
Don't be left out
Be a part of the biggest craziest hour of BINGO anywhere
Major prizes up for grabs


2017 Yamaha SCR950 from RideNow Vegas
$2,500 from Dollar Loan Center
50in TV from Bust out Bail Bonds
Car play stereo system from Audi Express
Diamond Ring from Michael E Minden
$800 in gift certificates from ShowTime Auto for gas & carwashes
Napolis Pizza for a year

PLUS LOTS MORE
---
KOMP 92.3 ROCK AND ROLL BINGO PROMOTION RULES
FROM NOW UP TO SATURDAY, MARCH 25, 2017 KOMP 92.3 WILL CONDUCT THE KOMP BINGO PROMOTION. NEVADA RESIDENTS 21 YEARS OF AGE OR OLDER WITH VALID / NEVADA / OR GOVERNMENT ISSUED PICTURE ID WILL BE INSTRUCTED TO BE THE DESIGNATED CALLER AT 702-876-3692. THEY WILL WIN A CERTIFCATE GOOD FOR 2 PEOPLE TO THE SANTA FE BINGO HALL AND WILL RECEIVE SET OF (10) KOMP 92.3 BINGO CARDS AT SANTA FE BINGO HALL TO BE USED ON SATURDAY MARCH 25, 2016 AT SANTA FE STATION CASINO IN THE BINGO ROOM FROM APPROXIMATELY 5PM TO 7PM, WITH DOORS TO THE BINGO ROOM CLOSING AT 5PM TO START THE GAMES NO EXCEPIONS. LISTENERS WILL HAVE THE OPPORTUNITY TO WIN PRIZES, SUCH AS $2,500.00 IN CASH FROM DOLLAR LOAN CENTER FOR PROMOTIONAL PURPOSES, CONCERT TICKETS, GIFT CERTIFICATES, ETC. LISTENERS WILL ALSO BE ABLE TO REGISTER TO WIN A SET OF KOMP BINGO PASSES BY LOGGING ON TO KOMP.COM AND COMPLETE THE ON LINE ENTRY FORM WITH YOUR COMPLETE CONTACT INFORMATION FOR YOUR CHANCE TO WIN BINGO PASSES. ONE ONLINE ENTRY WINNER WILL BE SELECTED BY RANDOM DRAWING ON THURSDAY, MARCH 23, 2017. YOU CAN ALSO WIN BINGO PASSES AT VARIOUS KOMP LIVE BINGO REMOTES UP TO MARCH 25, 2017. LISTEN FOR DATES, TIMES AND LOCATIONS. WINNERS MUST BE PRESENT AT THE REMOTES TO WIN THE BINGO PASSES. DURING THE GAME, THERE WILL BE ONLY ONE WINNER PER GAME PLAYED THAT DAY AT SANTA FE STATION. IN THE EVENT OF A TIE IN ANY GAME, A RANDOM DRAWING WILL BE HELD TO DETERMINE THE (ONE) WINNER FOR THAT GAME PLAYED OR PRIZE WON. ALL WINNERS MUST BE PRESENT AT ALL BINGO GAMES PLAYED WITH THE PRIZE GOING TO THE PERSON WHO PARTICIPATED IN THE GAME WITH THAT BINGO CARD. LISTENERS MAY ONLY WIN ONE KOMP BINGO PASS AND HAVE ONE (1) SET OF 10 KOMP 92.3 BINGO CARDS. ALL PRIZES CANNOT BE TRADED OR REDEEMED FOR CASH. ALL WINNERS OF PRIZES OVER $600.00 AND ARE RESPONSIBLE FOR ALL APPLICABLE TAXES INCLUDING FEDERAL INCOME TAX, AND THE PICK UP OR PAID DELIVERLY OF PRIZES THAT ARE APPLICABLE FOR DELIVERLY. BINGO PASSES CANNOT BE TRADED / SOLD OR REDEEMED FOR CASH. IF A NON RESIDENT WINS A BINGO CARD OR GUEST OF WINNER DOES NOT HAVE A VALID NEVADA ID AT THE TIME OF CHECK IN BEFORE GAME ON MARCH 25, 2017 THEY MUST FORFEIT THE CHANCE TO PLAY BINGO AND THAT DECISION IS FINAL. EMPLOYEES AND IMMEDIATE FAMILY MEMBERS OF LOTUS BROADCASTING, ALL STATION CASINOS EMPLOYEES AND ALL AFFILIATED PERSONS UNDER THEIR EMPLOYMENT AS WELL AS OTHER NEVADA RADIO STATIONS AND ANY OTHER PARTICIPATING SPONSORS ARE NOT ELIGIBLE TO PLAY OR WIN. NO PURCHASE NECESSARY TO ENTER.